Mini Tummy Tuck in Houston, TX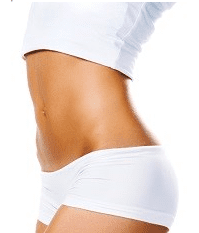 Houston mini tummy tuck, or mini abdominoplasty, is a variation on traditional abdominoplasty. This procedure uses a shorter incision above or at the pubic region, not very different from the incision used for a C-section. The procedure is aimed at tightening the muscle tissue, removing any excess skin, and removing the excess fat from the lower abdomen. If you have issues below your belly button, or if you are in decent shape but have plateaued with exercise and diet, then you are an ideal candidate for this procedure. Excess tummy skin or localized fat in the lower abdomen are the most common indications for a mini tummy tuck.
How Is It Different from a Full Abdominoplasty?
A mini-abdominoplasty has much less noticeable incisions than a full abdominoplasty, typically just a single one on the patient's bikini line. The goal of the procedure is to create a flatter and tighter stomach. The surgeon will remove any excess skin through a short incision above or at the pubic area that stretches across the lower abdomen. He will then proceed to tighten the slack muscle underneath and combine it with a fat-removal procedure like liposuction to contour the area.
Regardless of what kind of tummy tuck is needed, the results are very impressive. Experienced surgeons can take someone who has a protruding belly and loose skin and make the stomach and skin completely smooth, flat, and free of any stretch marks. The recovery time is also shorter compared to a full abdominoplasty. However, it is considered to be major surgery. On the other hand, post-treatment care is quite easy for a mini-abdominoplasty. If you are planning to get pregnant, then you should wait until after the pregnancy to get a mini tummy tuck.
What Can You Expect on the Day of the Surgery?
A mini tummy tuck in. Houston can be performed in a surgical suite, ambulatory facility, or an accredited hospital. The plastic surgeon will be able to give you an estimate of how long the surgery will last after taking a detailed medical history and performing a thorough physical exam.
The surgeon will administer local or general anesthesia, and an anesthesiologist will be present to keep a close watch.
For safety, the surgeon will use monitors to check your blood pressure, pulse, and oxygen saturation.
Once the surgery is complete, you will be taken to the recovery area, where you will be monitored closely.
You might feel disoriented, dizzy, and nauseated once the anesthesia wears off. These sensations are normal and will pass in a few hours.
The procedure is usually performed on an outpatient basis, so you will be able to go home the same day. Make sure you have someone to drive you home, as it is not a good idea to stress yourself after the surgery.
The recovery time varies from person to person depending on their age, metabolism, and quality of aftercare. Make sure to follow your post-surgical care instructions.
Schedule a Consultation
Consult with board-certified plastic surgeon Dr. Philip Straka to find out more about what a mini abdominoplasty can do for you. To get started, contact us today for a consultation.