Have you been wanting to improve the appearance of your breasts? As you age, factors such as aging, genetics, pregnancy, and significant weight fluctuations can affect how your breasts look, including their position on your chest. If you desire to restore your breasts to their natural position on your chest, then a breast lift is your solution. And if you're unhappy with the size of your breasts and you wish to increase their size, then breast augmentation surgery may be the route you want to take. However, when you're considering which surgical procedure is best to enhance the appearance of your breasts, you don't have to decide between a breast lift or breast augmentation. By having both procedures performed, you can achieve the youthful, perky bust you desire as well as the chance to improve the shape and volume of your breasts. Dr. Straka's skill and expertise with both procedures will help give you the dramatic results you've been dreaming of.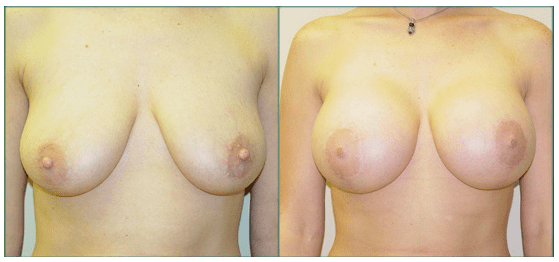 Why Should I Consider Both Procedures?
Undergoing any surgical procedure is a major decision, but there are significant benefits in choosing to have both breast lift surgery and augmentation performed together.
Shorter Recovery
The most significant benefit for many patients who have both procedures performed together is that the recovery time is cut in half. Both breast lift surgery and breast augmentation surgery require a few days of rest, followed by a week or two of light activity only. You'll likely be out of work for at least one week. After both procedures, it is recommended that you wear a compression bra to minimize swelling and help the healing process. If you undergo both procedures separately, then you will experience this recovery process twice. However, if you choose to combine the two, you will find that the recovery process is no longer than if you'd had a single procedure performed.
Sooner Dramatic Results
Seeing the full results of either procedure can take a few weeks. After both a breast lift and breast augmentation, your breasts will be swollen and hidden under a compression bra. Once the swelling subsides, your results will become apparent. If you've chosen to have both procedures at separate times, then you will have to wait until you recover from each before you can see the full, dramatic results. However, by combining these procedures, you will be able to see your results even sooner.
Lower Cost
Cosmetic surgeries can be expensive, including fees for the surgical location, anesthesiologist, surgeon, medications, and more. By combining procedures, you will only have to pay for these costs once. Choosing to combine procedures will significantly lower your financial commitment. However, if you're concerned about costs, Dr. Straka does offer financing through CareCredit®.
If you're interested in breast augmentation combined with breast lift surgery, contact our office for a consultation with Dr. Straka. We can be reached at 281-540-8044.