The tummy is often the area of focus when undergoing an exercise regimen. Have you tried consistent exercise to reduce the flab around your belly? Are you discouraged that your healthy eating hasn't resulted in a smaller waistline?
Sometimes, despite your best efforts, a healthy lifestyle is not enough to achieve a sculpted, contoured abdomen. Changes in skin laxity and weakened abdominal muscles, caused by factors such as childbirth, massive weight loss, and aging, can make it difficult to regain a trim midsection.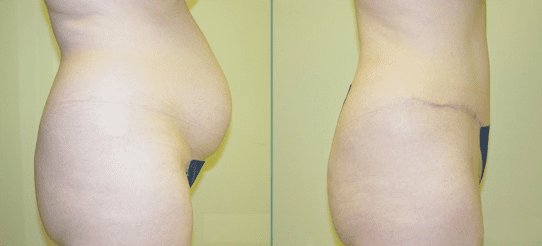 If your midsection still has a slight pooch you can't seem to get rid of, tummy tuck surgery can be an effective solution to restore a sculpted, more contoured abdomen. Dr. Straka can give you the body you desire. Depending on your needs, you may have the choice between a mini tuck, traditional tummy tuck, and extended tummy tuck.
Who Can Benefit From a Tummy Tuck?
If you've been finding it challenging to restore your youthful figure, even after a consistently healthy lifestyle, Dr. Straka can help you determine if a tummy tuck is right for you. After scheduling a consultation, he will determine which type of procedure is most appropriate to meet your treatment goals.
Mini Tummy Tuck
A mini tummy tuck is most beneficial if your skin pooch is centered below the belly button or if you are experiencing weakness in the lower abdominal muscles. During this procedure, Dr. Straka will make a single incision just above the pubic bone. This allows him to tighten the muscles in the lower tummy. He will also tighten the skin down toward the incision, excising any additional tissue before closing the incision. The main benefit of this procedure is the location of the incision; its placement in the lower abdomen means it's easily concealed under a bathing suit.
Full Tummy Tuck
A full tummy tuck, the most popular version, is appropriate for you if you not only are experiencing skin sagging in the lower abdomen but if you also have excess skin in the middle of your abdomen. Dr. Straka will make two incisions: the first, as found in the mini tummy tuck, will be in the lower abdomen; the second incision will be made at your belly button. Excess skin between the two incisions will be removed after Dr. Straka tightens the skin. If necessary, he will tighten the abdominal muscles. Combined, this can give you a sculpted, contoured midsection.
Extended Tummy Tuck
An extended tummy tuck is most often performed for patients who have extreme amounts of excess skin, typically due to massive weight loss. The extended tummy tuck focuses not just on the abdomen, but it also wraps around your sides. Dr. Straka will make an incision from hip to hip. The long length of the incision allows him to evenly pull the skin down across the entire belly, flanks, and lower back. The nature of this procedure means that the scar is difficult to conceal; however, there are major benefits to the removal of so much excess skin.
Regardless of the procedure performed, you will be required to wear compression garments. This will help to minimize swelling and bruising. Though these conditions are normal, minimizing their effects will help to speed up the recovery process. Light activities can be resumed between five and seven days, but more strenuous activities should be avoided until cleared by Dr. Straka.
If you'd like to learn more about which tummy tuck procedure might be best for you, please contact our office to set up your consultation with Dr. Straka. Our Houston office can be reached at 281-540-8044.