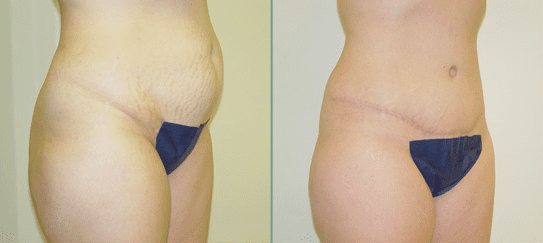 Are you looking forward to your impending tummy tuck? Do you dream of a tightened and toned midsection? Are you ready to finally improve your appearance and regain slimmer contours? While undergoing a surgical procedure can be daunting, addressing lax skin and stubborn fat deposits in your midsection with abdominoplasty is often the only way to flatten your tummy when it resists exercise and healthy eating.
Though Dr. Straka's expertise in performing the procedure provides you the best results possible, there are additional things you should do both before and after your procedure in order to maximize your results.
Before Your Tummy Tuck
You can set yourself up for success by doing a few things prior to your surgery:
Stop Certain Medications
Approximately two weeks before your surgery, you will need to refrain from taking aspirin. Aspirin is a blood thinner and can increase the risk of bleeding during surgery. You will be asked to stop taking diet medications as well; these can interfere with healing and increase risks during the procedure. If you are taking any other medications, you should inform Dr. Straka during your consultation. He will determine if or when you should discontinue their use prior to your surgery.
Stop Smoking
You will need to stop smoking at least six weeks before you have your surgery. Smoking prior to a surgical procedure can make healing more difficult and increase the likelihood of surgical complications. Smoking decreases lung capacity and compromises function, making going under anesthesia riskier. You should refrain from smoking for at least three weeks following your surgery, though it's better if you quit altogether. Complete cessation of smoking can positively impact your quality of life.
Dress for Comfort
On the day of your surgery, you will want to make sure that you wear loose-fitting clothing. This will prevent clothing from pressing into your incision when you leave after your procedure. Pants with elastic waistbands will feel better around your tummy.
After Your Tummy Tuck
Follow Aftercare Instructions
After your surgery, Dr. Straka will provide you with a set of specific instructions to follow. These are tailored to your individual treatment and are designed to maximize your recovery. Your aftercare instructions will detail medications that can help with discomfort, and they will inform you about possible complications to recognize during your recovery phase. To ensure the best possible results, it's important to follow these instructions carefully.
Maintain a Stable Weight
The results of your tummy tuck will be long lasting as long as you maintain a stable weight. Extreme changes in weight will cause the tightened skin to stretch out again. In order to avoid excess weight gain, it is important to maintain a healthy diet and a rigorous exercise routine after recovery. Engaging in a healthy lifestyle will ensure that your tummy tuck results are permanent.
To find out more about how a tummy tuck surgery can benefit you, contact our office to set up a consultation with Dr. Straka. We can be reached at 281-540-8044.