You work out. You eat right. You watch your weight, but you're still not happy with the way you look in the mirror. Saddlebags on the thighs, protrusions at the hips, and fat accumulations on the stomach or beneath the chin may be resistant to exercise and diet.
Liposuction is a safe and effective way to remove these unsightly bulges, giving you a sleeker, smoother silhouette.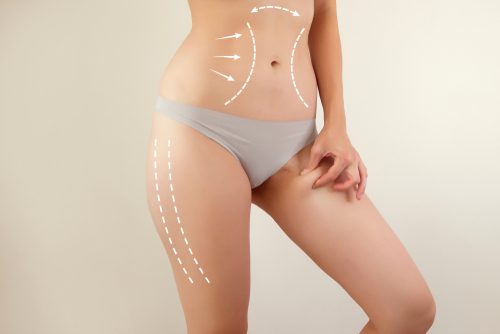 What Is Liposuction?
Liposuction, or lipoplasty, is a cosmetic procedure that removes localized deposits of excess fat from areas of your body, giving you a more flattering shape.
Your procedure is normally performed at an outpatient facility under general anesthesia. Unwanted deposits of fat are drawn off through tiny incisions strategically placed to be hidden by clothing. The recovery time is minimal, and you can return to work or normal activities within a few days to a week.
What Can Liposuction Do for Me?
Removes Fat From Different Areas of the Body
Liposuction can improve the shape and appearance of many areas of the body. Women frequently have body sculpting done under the chin, on the hips, thighs, abdomen, back, or even the arms and legs.
Men may undergo liposuction to remove bulges around the waist or reducing excess tissue in the breast or chest area. Liposuction is done alone or in combination with other cosmetic procedures.
More Clothing Options
Many patients feel they have to hide their figure under loose-fitting clothes due to having a significant amount of fat in various areas of their body. Liposuction can not only help you attain a slender look, but you can feel comfortable wearing certain pieces of clothing.
Improves Your Self-Esteem
Stubborn excess fat can not only make a person's figure look unflattering and unbalanced, but it can also cause them to feel anxious and self-conscious about the way they look. Liposuction can help alleviate certain insecurities by targeting specific areas of the body.
Can Be Combine With Other Procedures
Liposuction can be combined with other body contouring procedures like tummy tuck surgery, Mommy Makeover surgery, or butt lift surgery to enhance your overall results.
To find out if you are a candidate for liposuction, please contact our office at 281-540-8044 or schedule a consultation with us online today!