You've decided to enhance your breast size through breast augmentation surgery. It's a major procedure, but you will finally realize your desire for a larger bust and more shapely figure. One of the significant benefits of breast augmentation is that it is a fully customizable procedure. When you meet with Dr. Straka prior to your surgery, he will discuss all of the different options available to you and the various decisions you have to make. He will help you determine which is most appropriate for you in reaching your desired outcome. From the type of implant to the desired size of your breasts to the location of the incision, there are multiple options available in determining what type of procedure you will have. However, one decision that you may not have realized is where the implant should be placed on your chest. When you have your consultation appointment with Dr. Straka, he will discuss with you the options for implant placement and determine which is most appropriate for you.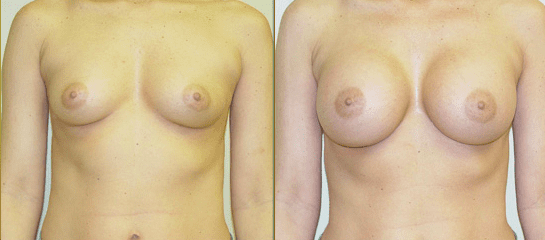 Implant Placement
After Dr. Straka makes the incision at the beginning of the procedure, he will make a pocket within your chest cavity to place your implant. The placement of the implant depends on multiple factors, and it is good to be aware of those factors so that you are more prepared for your procedure.
Submuscular Placement
Submuscular implant placement means that the breast implant is placed beneath your pectoral muscle. Dr. Straka prefers this method for many reasons. This placement provides more coverage over your implant so that it looks more integrated with your body, and it gives your new breasts a much more natural look. This placement is especially beneficial for women who have little breast tissue, as this will provide additional coverage for the implant. Additionally, in Dr. Straka's experience, there is a much lower rate of complications, such as capsular contracture, with this placement. Submuscular placement also makes it easier for technicians to identify natural breast tissue during mammograms.
Submuscular implant placement may result in a slightly more extended recovery period, though, due to the somewhat more invasive surgical procedure. One downside is that arm movements (and the corresponding muscle contractions) may visually change the appearance of the implant temporarily.
Subglandular Placement
Subglandular implant placement means that the implant is placed over the muscle and is covered just by the breast tissue. While the recovery process tends to be slightly faster, there is often an increased risk of implant visibility and complications, such as rippling or capsular contracture. This is not the preferred method, but there are some cases where subglandular placement may be a more appropriate option based on your implant choice or breast anatomy.
Regardless of the implant location, Dr. Straka's expertise in performing breast augmentation procedures makes him qualified to provide you with the best possible results. Deciding where to place your implants will be discussed at length during your consultation, and your entire augmentation procedure will be designed to give you the most natural-looking breasts possible.
To find out more about your options for breast augmentation surgery, contact our office to set up a consultation with Dr. Straka. We can be reached at 281-540-8044.