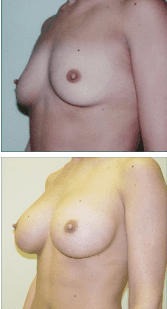 Sagging occurs when the tissue becomes weak and is unable to support the weight of your breasts. Over time, your breasts droop and begin to sit at or below the inframammary line. Breast sagging may become more prominent following pregnancy, weight loss, or as you get older. These types of changes to the breasts are often associated with a loss of volume and a deflated appearance as well.
Since the size of the breasts tends to be more problematic for women, you may turn to breast augmentation to see an improvement in the look of your breasts. But will this also treat their drooping appearance?
Probably Not…
If you have a mild degree of ptosis when considering a breast augmentation, breast implants may be enough to treat it. These candidates usually have good nipple projection, their breast tissue sits just at the inframammary line, and there isn't much excess skin. However, this is a narrow margin of women seeking breast augmentation. For most people, breast implants won't provide a long-lasting improvement to sagging breasts.
Choosing to Combine Implants With a Lift
Breast lift surgery removes excess tissue and repositions the breasts, so they sit higher on the chest wall. Internal suturing techniques can provide support to the breasts, which may help minimize future sagging. These techniques can be combined with a breast augmentation to achieve breasts that look better and last longer. The nipple-areola complex can even be repositioned on the breasts for better nipple projection and a natural aesthetic.
Benefits of Combining Procedures
Avoid future complications from weakened breast tissue, such as double bubble deformity and implants that bottom out.
Receive better nipple and areola placement.
Prevent a "waterfall" appearance caused by excess breast tissue.
Experience a single, one-time procedure and recovery period.
Save valuable time and money.
A consultation is needed to evaluate your degrees of ptosis and to decide what combination of procedures are necessary to improve your breast appearance. You can schedule a consultation with Dr. Straka to discuss your breast needs. Call our office at 281.540.8044 or contact us online.