Many women struggle with the way that life changes like pregnancy, weight loss, or the natural aging process can affect their breasts. They begin to droop and sag, and the nipples may shift position. However, many women are reluctant to undergo a surgical procedure to address these changes. Choosing to undergo a surgery is a major decision, and many patients find themselves concerned about the long-term results. Specifically, concerns about a noticeable scar may deter you from choosing surgery as a solution. However, Dr. Straka can utilize the short scar technique to minimize the appearance of your scars. This technique is not appropriate for every patient, but he will consult with you to determine if you are a good candidate for this approach.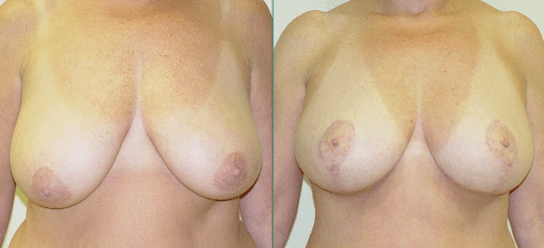 What Is the Short Scar Technique?
The short scar technique is also known as the lollipop technique and can be used in both breast lift and breast reduction surgeries. The scar looks like a lollipop; an incision is made around the areola and continues vertically down the face of the breast. This allows Dr. Straka to avoid an additional incision along the base of the breast.
Is the Short Scar Technique Appropriate For Me?
The short scar technique is not appropriate for everyone, and the only way to know for sure is to meet with Dr. Straka to discuss your treatment goals. He will perform a physical examination and determine whether this technique will work to provide your desired results.
The short scar technique is most suitable for patients who have moderate levels of breast ptosis (sagging). This is typically when the breast is sagging approximately one to three centimeters below the inframammary fold. The nipples may also be starting to point downward.
Why Should I Consider the Short Scar Technique?
The short scar technique has excellent benefits. The location of the incision along the areola and front of the breast means that it is easily concealed under bathing suit tops or undergarments. It is virtually invisible during your day-to-day activities. However, it is not suitable for patients with more severe ptosis.
What Can I Expect?
Your procedure will be performed under general anesthesia. Dr. Straka will make the incisions on the breast, then adjust the skin and tissue to lift the breast. You will experience some swelling and bruising after the procedure, but these are typical side effects that will subside over the subsequent days and weeks. Dr. Straka recommends a supportive bra be worn for the first couple of weeks to help minimize swelling and to aid in your recovery.
If you're interested in learning how a breast lift may be right for you, contact our office for a consultation with Dr. Straka. We can be reached at 281-540-8044.