For many women, it is difficult going from the joyous time of childbirth to dissatisfaction with the changes their body has undergone. To help patients regain their pre-pregnancy body, many plastic surgeons offer Mommy Makeover surgery.
Mommy Makeover surgery is designed for women who want more than one procedure performed at the same time following childbirth. These surgeries commonly focus on the breasts and midsection to restore a woman's youthful figure. However, your Mommy Makeover will be based on the effects that childbirth has had on your body as well as your aesthetic desires.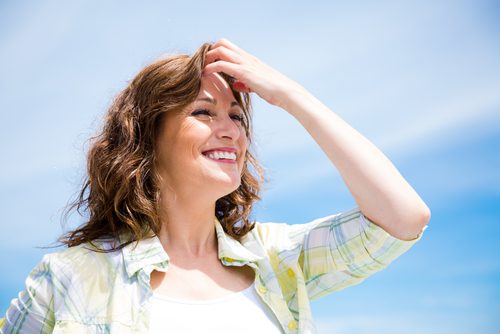 Who Is a Good Candidate?
Patients who are interested in Mommy Makeover surgery must be healthy, able to undergo various treatments, and willing to address certain issues on their body. These issues include deflated breasts, stubborn fat, and abdominal skin laxity that has developed over time due to pregnancy, breastfeeding, or weight loss.
What Are the Benefits of Mommy Makeover Surgery?
Mommy Makeover surgery can provide women of all ages many benefits, including:
Eliminating fat from various areas
Perkier breasts
Slimmer and more toned contours
A younger appearance
Long-lasting results
What Are My Mommy Makeover Options?
Breast Augmentation
As you age, your breasts can begin to lose volume due to breastfeeding, weight loss, and pregnancy. Breast augmentation is a surgical procedure that uses silicone or saline implants to enhance the overall appearance of a woman's breasts. It can also restore volume to the breasts to help patients achieve a perkier bustline.
Tummy Tuck Surgery
Tummy tuck surgery, also known as abdominoplasty, can help mothers achieve a flatter and more toned midsection after developing excess skin due to pregnancy or weight loss. This procedure can also be performed along with liposuction to remove stubborn fat deposits and enhance their overall results for a more aesthetically pleasing figure.
Liposuction
When diet and exercise do not seem to be doing the trick, many women can opt for liposuction to restore their once slim figure. Liposuction is a surgical procedure that can eliminate fat from various areas of the body. These areas include the back, abdomen, arms, thighs, hips, and buttocks.
Breast Lift Surgery
Sagging breasts as a result of breastfeeding and pregnancy can often make a woman feel self-conscious about her appearance. Breast lift surgery is a surgical procedure that lifts the breasts to a higher position on the chest to create a balanced and beautiful bust.
To find out if you are a candidate for Mommy Makeover surgery, please contact our office at 281-540-8044 or schedule a consultation with us online today!